DAVE: Randy, thanks for letting me conduct this interview. ANGEL rocked when I saw them in Dallas in November. What should we expect from ANGEL in 2005?

RANDY: A new record! We've got about eight songs so far. Steve Blaze and Frank Dimino started writing just after the mini-tour in November. Michael T. Ross, our keyboard player, and drummer Barry Brandt are in Los Angeles. They've been working on a few ideas. I have two songs that we've got to add some polish to. With almost 10 songs completed, we have some interest from a couple of European record labels, including Frontier. Once we release the album, we'll tour Europe first.

DAVE: Have you had a chance to listen to or rehearse any of the new material?

RANDY: Rehearse it, no. But I have listened to everything. They are rough demos, and we mail them to each other. Frank's in Vegas, I'm in New York and Blaze is in New Orleans. The logistics of rehearsing are tough. We'll do most of the rehearsing before we start the tour. Steve writes really heavy songs, I was glad Frank wrote with him to keep the songs sounding "ANGEL." We all agreed to a "Helluva Band/On Earth As It Is In Heaven" vibe.

DAVE: In the late 70's, I saw ANGEL appear two times in New York City's Palladium. Seeing new performances 25 years later, and hearing those classic songs being played live, is awesome. The new ANGEL is hard rocking "guitar band" with a keyboard player. Not a "keyboard band." My compliments to you and Steve, I love the transformation. How has the change been received by long time ANGEL fans?

RANDY: Thanks Dave, I totally agree. The reaction from hardcore ANGEL fans has been over-the-top. Two tours ago, our previous keyboard player quit mid-tour. Instead of bailing on the tour, Steve and I dissected the songs and made some changes to make up for the lack of keys. The resulting heavier vibe made ANGEL more up-to-date, in my opinion. We were able to finish that tour with no keys, but this is ANGEL, so we added Michael to the band as our keyboard player. The fans are flocking to us with compliments, stating the new, heavier ANGEL is equal to or better than the classic ANGEL you saw in the 70's.

DAVE: What is your favorite ANGEL song to play and why?

RANDY: "You're Not Fooling Me," hands down! I love the album "On Earth As It Is In Heaven." It has such a great groove and great sound. It's no secret to the guys what my favorite ANGEL album is. I'm always trying to add "She's A Mover" to the setlist.

DAVE: In the spring of 2004, ANGEL played the Bang Your Head festival in Germany. What type of reception did ANGEL get from the metal fans in Europe?

RANDY: I was really surprised. The whole place is dressed in black, and we're clad in white. I almost had an anxiety attack, I felt so out of place. When we hit the stage, all the fists we're pumped up into the air. The fans gave us a great reception. It went unbelieveably well. We had a great autograph signing session afterwards.

DAVE: What other bands did you watch play at the festival?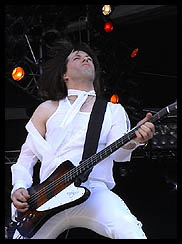 RANDY: We didn't arrive to the second day so I just saw a few. I had to watch U.F.O., and I watched most of Sebastian Bach's set. After ANGEL performed, I went out into the audience and give Steve and Lillian Axe some support. That was probably the best I've ever seen them, they were just dead on.

DAVE: Thin Lizzy, with you playing bass, headlined a club tour in the fall of 2003. Last summer, the same lineup toured the United States supporting Deep Purple and Joe Satriani on an arena tour. Thin Lizzy's lineup on its current European tour includes Marco Mendoza. Have you ended your affiliation with Thin Lizzy?

RANDY: Yes I have.

DAVE: I had the pleasure of seeing Phil Lynott in different Thin Lizzy lineups in the 70's. He was a great frontman on stage, and such an incredible songwriter. From your perspective playing his arrangements, was he a great bass guitar player?

RANDY: Phil wrote great songs! He was a brilliant musician. Whether it's a smooth flowing bass line or a sharp staccato piece, he was an extremely solid bass player. He definitely taught me a thing or two.

DAVE: What was your favorite Thin Lizzy song to play live, and which song would you have added to the setlist?

RANDY: "Emerald." It has such feeling and spirit. There is a great story behind the song. The crowd's reaction to that song is tremendous. "Emerald" is an underground anthem. There would be nights that I wouldn't be able to contain myself. I would have added "Little Darling" or "Wild One" to the setlist. The tours I played in the U.S. demanded a rock show, which is fine, but the dynamics of the band lends itself to the obscure cuts.

DAVE: Michael Lee blew me away drumming for Thin Lizzy. I don't envy you joining him in the rhythm section. What's it like playing on stage with him, and what's he like offstage?

RANDY: Onstage, Michael is a powerhouse! A loud, hard-hitting drum machine. Right on the money all night long. It's great to play with a drummer that you don't even have to look at, you know he's gonna be there... but I watched him anyway, how could you not! He's one of the best drummers out there today. Offstage, he is a friend for life. Super funny, with that English/Scottish sense of humor. He had me in tears laughing every day.

DAVE: Before joining these bands, did you ever see ANGEL or Thin Lizzy appear in concert? In fact, what is the first concert and the last concert you attended?

RANDY: No, ANGEL stopped touring in 1981, Thin Lizzy stopped in 1983. I was a little too young then. I have seen and studied many videos of Thin Lizzy. I wish I would have seen ANGEL, with their appearing/disappearing magic act. After thinking about how they did that for 15 years, I finally figured it out and Barry Brandt told me that my theory was correct. I'd love to tell you, but I'd have to kill you!

The first concert I saw was either Zebra, who was huge in Long Island, or Alcatrazz with Yngwie Malmsteen on guitar. I can't remember which was first. I do remember that Alcatraz didn't have a dressing room, Yngwie did! He was a super, cool guy. The last concert I attended was either The Donnas or The Dwarves.

DAVE: How does your gear differ switching from Thin Lizzy to ANGEL? Switching from an arena tour to a club tour?

RANDY: My gear doesn't change much. I just use different basses for different bands. I love to use my eight string bass with ANGEL. With Thin Lizzy, it was my Gibson T-Bird. My pedals and amps don't change. In a club, my stage volume is turned way down. In arenas it's just the opposite, if you're not in the line of fire, the sound can get lost, so I turn up a bit.

DAVE: Randy, who is your bass favorite player to watch in concert? To listen to on CD?

RANDY: In concert, I would say Cheap Trick's Tom Petersson. His 12 string bass actually has three inputs leading to three different amps. One for lows, mids and highs. His sound is huge, it blows me away everytime. On CD, I love Tim Smith from Jellyfish. I just think he's the perfect bass player. He's very diverse and it shows.

DAVE: It's about this point in an interview that I offer to switch places for a question or two? Anything you'd like to ask of me?

RANDY: Sure. Who is your favorite band? Did you see any of the punk rock bands in their heyday?

DAVE: Emerson, Lake and Palmer is my lifelong favorite band. In the late 70's they disbanded. All my friends in North Jersey were driving the Garden State Parkway south to Asbury Park, getting into Bruce and Southside Johnny. I headed 10 miles east, to New York City, the Bowery, to CBGB's. I did see some of the punk bands there, The Ramones, Pere Ubu, and my favorite, The Dead Boys. A year later, in New Jersey, my brother and I attended the first big punk concert in Passaic's Capitol Theatre. The Ramones, Talking Heads, Eddie and The Hot Rods, and The Tuff Darts. I was hooked for good.

DAVE: I saw Dee Snider singing in Bent Brother recently. Tell us about your work with the legendary Twisted Sister frontman.

RANDY: I only got to play a few shows with Dee and saying he was great to play with is an understatement. Talk about a steamroller! And I would say he's one of the best frontmen of all time. He's got the best raps in rock n' roll. Unfortunately for me, Twisted Sister reunited.

DAVE: Dee Snider who be a good character on one of the multitude of reality TV shows, perhaps on "The Apprentice" getting fired by Donald Trump or on "The Sopranos" getting whacked by Paulie Walnuts. What show would you cast him on? After Dee reads your response, which reality show is he going to want to put you on?

RANDY: America's Top Super Model would be a good show for Dee.
He'll want me on Survivor, stuck on some remote desert island, after reading this.

DAVE: You released two albums and played live in the late 90's with the band Garlic. Describe the group, who were your bandmates, and what was the musical direction of those albums?

RANDY: Garlic was Cheap Trick meets Jellyfish meets The Beatles meets Led Zeppelin. We had some great shows in the Northeast, opening shows for many national acts. We were a unique three piece band. Joey Anderson was a stand-up drummer who handled lead vocals. Glenn Walsh was our guitarist.

DAVE: In your opinion, is there one album that defines rock and roll?

RANDY: Rock and roll is such a loose term. That being said, I'll pick the first New York Dolls album.

DAVE: Is there one band that defines how rock and roll should be played?

RANDY: The MC5.

DAVE: You've played with some incredible musicians throughout your career. Dee, John Sykes, Scott Gorham, Steve Blaze and many more. If you could form a supergroup for one CD/tour, with musicians you've never played with, who would be in your band?

RANDY: Robin Zander singing, Rick Nielson on guitar and Bun E. Carlos drumming. Simply, me in Cheap Trick. Or, if they don't have to be alive, how about Freddie Mercury (vocals), Randy Rhoads and Mick Ronson (guitars), and Jerry Nolan drumming. No keys!

DAVE: What new artists have impressed you the most?

RANDY: I think Jet has a cool thing going on. They're definitely into the old sounds, MC5, the Stooges, but they also have an element of today that people can relate to. And I have to hand it to The Donnas. I really love their last two records.

DAVE: What CD's are you are going to listen to on the long ride to Vermont?

RANDY: The Hellacopters "By The Grace Of God," MC5 and anything by Eddie and The Hot Rods.

DAVE: What is the first album you ever owned and the last CD you purchased?

RANDY: The first was Queen's "A Night At The Opera." I just picked up The Saints box set.

DAVE: I read an interview with you that listed "L.A.M.F." by Johnny Thunders and The Heartbreakers in your "desert island disc" response. I'm a big fan of the late, great Johnny Thunders. Have you heard his version of "Daddy Rolling Stone," where he alternates vocals with Phil Lynott and Steve Marriott?

RANDY: Of course!! My friend, drummer Tony Mann, his father and uncle were pretty hip to whole New York scene. Tony grew up with The Dolls and a whole slew of other bands. He's got a whole bunch of stories, one being about him sitting behind the drumkit as a teenager in New York City, jamming with Johnny and Phil, and Steve Marriott was passed out on the couch. Obviously, that was during the session for "Daddy Rolling Stone"

DAVE: How about a "desert island DVD" list for this interview. Pick two live concerts, two Hollywood films and the video highlights of one porno actress.

RANDY: I'll pick "The Star Wars Trilogy" and "Valley Girl." Live concerts would be something by Queen like the "'75 Christmas show" or "Live Aid." I'm no big on porn, I'd rather participate than watch! I guess if you're going to force me to pick, it would be Raquel Darian.

DAVE: Speaking of desert islands, would you rather be stranded on the desert island with that pornstar, and you have no chance of escaping. Or with her husband, who has the brains and ability to one day get you off the island?

RANDY: I'd want to get off the island, there are too many fish in the sea. If it was Jennifer Love Hewitt, I'd stay on the island!

DAVE: Can you share with us two favorite musical moments, one as a music fan attending a show, the other as a musician playing a show?

RANDY: Seeing the Stooges live had to be my favorite so far, not just once, but twice! And one of those times, Iggy had jumped into the crowd right next to me. You know those times when you can just let yourself go and enjoy the moment? As a musician, nothing tops playing "Smoke On The Water" with Deep Purple on stage. It was the last night of the tour, the arena in Edmonton Canada. At first it was just going to be John and Scott going up for a jam, but Roger Glover came looking for me! He practically dragged me out there. He was one of the nicest guys I've ever met. Don Airey too, they really made me feel comfortable and gave me a lot of confidence.

DAVE: Which band should put all their issues behind them, reform, record an album, and do one last tour?

RANDY: Jellyfish or ABBA.

DAVE: What is the one question you've always wanted an interviewer to ask you that has never been asked?
RANDY: How was it playing five sold-out shows at Madison Square Garden?

DAVE: How would you answer that question?

RANDY: I'll let you know when it happens.

DAVE: Are there any other thoughts you'd like to share with music fans?

RANDY: Stop watching MTV, you're killing yourselves! Great music has no chance these days, unless you obviously have money to pay off these big companies.

DAVE: Thanks again for this interview. My final questions are what's up next for Randy Gregg and have I missed anything you'd like to cover?

RANDY: No problem Dave, you rock. I'm currently playing and getting ready for a South American tour with a Queen tribute band called Almost Queen.

ARTIST BIOGRAPHY

Full Name: Randy Gregg
Websites: www.randygregg.com
Birthday: 11/08/69
Birthplace: Rockaway Beach in Queens, New York City.
Former bands: Garlic, Dee Snider's SMF's and Thin Lizzy.
Hobbies: Computers, I'm a big MAC fan.
Favorite rock band: Cheap Trick
Favorite metal band: Motorhead
Favorite punk band: The Saints
Favorite song: "Surrender" by Cheap Trick
Favorite film: "Blow"
Last book you read: Anne Rice's "Memnoch, The Devil"
Favorite American city to visit: San Francisco
Favorite European city to visit: Amsterdam
Favorite U.S. venue to play: The Beacon Theatre in N.Y.C.
Favorite foreign venue to play: The Bang Your Head festival.